Arthur, Hurley & Gottlieb
Front Of Album Cover
Jeff Arthur, Michael Hurley and Neil Gottlieb met at the University of South Florida in the early 1970s, and by 1973 had signed a deal with Columbia Records. Their first single release was :"Sunshine Ship", an Arthur penned classic from the self titled LP.
The group recorded 2 albums for Columbia before moving to A&M Records in 1975. No hits followed the "Sunshine Ship release", and the group broke up pursuing solo ventures.
Jeff Arthur went on to become an Addy winning jingle writer and producer for some of the largest advertising clients in the country. His bio is available on "Where Are They Now?"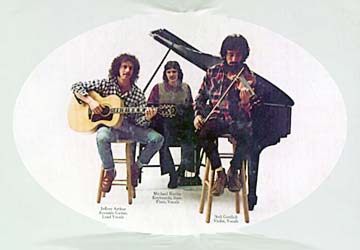 Arthur, Hurley & Gottlieb
Back Of Album Cover