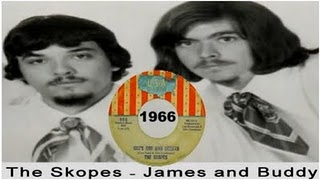 The Skopes / Surprize
John Centinaro from The Tampa Florida area managed and produced a mid1960's garage band called The Skopes and I helped him get their record "She's Got Bad Breath"/ "Tears in Your Eyes" on the USA record label in Chicago (the same label that Chicago's Buckinghams appeared on with "Kind of a Drag" written by The Mob's Jimmy "Soul" Holvay that was a Billboard #1 hit) ... John Centinaro is a talented man in the music business. He was a booking agent, a songwriter, a record producer and a genius of a promoter...
James Marvell and Buddy Good from that garage band - "The Skopes" went on to become part of a #2 Billboard hit in the group "Mercy" who recorded "Love (Can Make You Happy)" written by Jack Sigler Jr... Later on John Centinaro, James Marvell and Buddy Good arrived in Nashville to star in the country duo known as "The Country Cavaleers"... James Marvell from "The Skopes" has an excellent You-Tube video online which is a salute to all garage bands worldwide... ( by Carl Bonafede )

Around 1966 James Marvell & Buddy Good recorded a novelty tune written by John Centinaro & Marvell titled "She's Got Bad Breath." Released on the USA label from Chicago The Skopes were becoming a national hit when suddenly the song got banned!

On the recording: James on rythym and Buddy on bass also shared lead vocals. Paul Paradis on lead guitar and Jimmy Pughdominick on drums.

See Youtube video of song at:http://www.youtube.com/watch?v=Wu6oc8XOhKM
and http://www.youtube.com/embed/ouRyS8scozA
SURPRIZE was formed in Tampa, Florida. Before their days as SURPRIZE, James Marvell and Buddy Good were singing and writing songs together. It was during those teen years that James and Buddy became known as "The Skopes". They released a song co-written by their manager John Centinaro titled "She's Got Bad Breath." Scope Mouthwash banned the song so they changed the group name back to SURPRIZE which were also known as Together.

Around 1968, Surprize members James Marvell, Buddy Good and their new drummer Roger Fuentes joined Mercy and recorded the million seller "Love Can Make You Happy" written by Mercy founder Jack Sigler, Jr.
Today, Marvell is still traveling and reliving the the music of the '60s. Joining him is his wife Faye. Anyone interested in booking the James Marvell Show can email: jmarvell7@yahoo.com or call (813) 505-4966