Lovelighters Band
The Lovelighters played throughout the Tampa Bay area in the early 1960's. Our most consistent gig was playing every Saturday night 1962-1965 at the letter carriers hall on cypress street following the Rocker's run at the same location. We also played frequently at the Star's spectacular in the Clearwater auditorium and the Hellenic Center. Our original band consisted of the following- many of whom I'm sure you know including:
Roy Garcia-guitar, later went on to play with the Mystics. Outstanding musician still playing in Tampa and Rockers reunions.
Alfred Alvarez (pacita)-tenor sax, status unknown
Alfred Hernandez (conejo)-alto and baritone sax. Currently practicing Dermatology in Sarasota
Dennis Diaz (periquito)-trumpet. Retired several years ago from the phone company and unfortunately died suddenly just 2 weeks ago (March 2012) in Plant City.
Dennis Delgado (bemba)-tenor sax. Yours truly. Infectious Diseases physician practicing in Birmingham Alabama.
Manuel Bertematti-drums, went on to play with Blues Image, now retired accountant living in California
Robert Villardabo-bass, worked for Stockham valves, status unknown.
Junior Rios-vocals, status unknown.
Brian Billingham-vocals, worked in automobile dealership business in Tampa, passed away several years ago.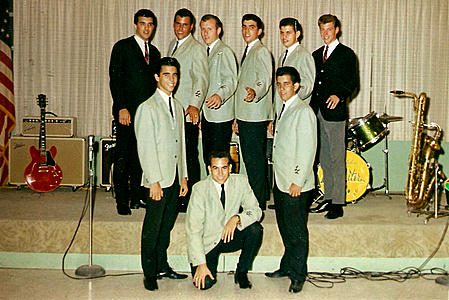 BACK ROW: Junior Rios, Gene Vilardabo, Dennis Diaz, Alfred Hernendez, Dennis Delgado, Brian Billingham FRONT THREE: Roy Garcia, Manuel Bertematti, and Alfred Alvarez
In subsequent years there were several other musicians that played with the Lovelighters including:
Onelio Ochoa-trumpet and vocals. Original Rocker-still plays with their reunions

Roger Menendez-actually played bass with us. Original Rocker (alto sax) still plays with their reunions

Danny Ramos-organ. Went on to play with Classics Four. Currently in the painting business in Tampa

Sam Traina-quitar. Went on to play with the Classics Four also. Still musician in the Atlanta area

Larry Barrington-bass. Believe he lives in Brandon and still works as a musician.

Dickie Martinez-trumpet. Status unknown

Dickie Rumore-tenor sax. Tampa musician. Owns Paragon Music.

"Floyd" -vocals. Actually never knew his last name ! He was a short black guy and we were probably the first intergrated pop band in the Tampa Bay area. Status unknown. He took off with our New Years Eve gig money one year and we never heard back from him again.
A few of us along with Joe Lala have played at our Jefferson High School Class of l965 recent reunions and had a great time.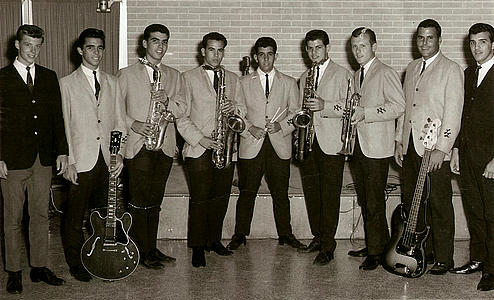 Same group (different order) as Lovelighters picture above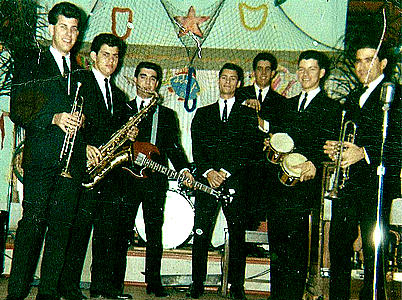 BACK ROW: Junior Rios, Gene Vilardabo, Dennis Diaz, Alfred Hernendez, Dennis Delgado, Brian Billingham FRONT THREE: Roy Garcia, Manuel Bertematti, and Alfred Alvarez