The EDEN ROCS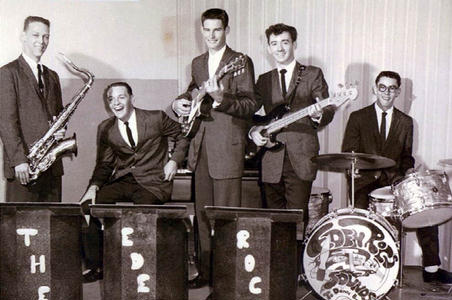 The Eden Rocs (photo 1) (l-r)
Danny Jiminez - Tenor Sax, Back-up vocals
Richard Guess - Key boards/Organ, Back-up vocals
Pip Studenberg - Lead Guitar, Lead vocals & harmonica
David McCreery - Bass Guitar
Gerry Babb - Drums/Percussionist
The EDEN ROCS originally named "The Pip Squeaks", was formed in 1958. The group consisted of Pip Studenberg (lead guitar/vocals); David McCreery (bass guitar); Edward Connell (rhythm guitar) and Buddy Comati (drums). All four members attended Hillsborough High School in Tampa, Florida.
After an initial break-in as a "real band," the group re-formed with a new line-up. The band, re-named The EDEN ROCS, featured five members, all of whom stayed together for a period of approximately five years. The EDEN ROCS: Pip Studenberg (founder), lead guitar/harmonica/lead vocals; David McCreery (co-founder), bass guitar; Jerry Babb, drums/percussionist; Richard Guess, Hammond organ/vocals; Danny Jimenez, tenor sax/vocals.
The band matured, quickly gaining popularity and was soon playing venues at local high school dances and proms, skating rinks and private parties in the Tampa Bay area. The state of Florida soon came calling in the form of college fraternities at The University of Florida, Stetson University, Florida Southern and others.
While on break during a gig at the Sigma Alpha Epsilon fraternity at the University of Florida, the band heard another group playing at the Alpha Tau Omega fraternity house around the corner. Pip said, "They sound just like us... let's go check these cats out!" This group was, in fact, very similar to The EDEN ROCS. Ironically, this group of musicians had also heard our band and said the same thing!
That group was none other than Booker T and the MG's, who later produced several hits including the all time classic "Green Onions."
In later years, The EDEN ROCS played popular Dale Mabry clubs six nights a week. Several of these clubs were notable gigs for the band; The Starlight Lounge, The Oasis and even The Alibi Lounge in downtown Tampa.
During these grueling club dates, several original players left the band. Determined to continue, a new horn player was hired. His name was Kenneth Nurse. Kenneth, a tenor sax and alto sax player, was no stranger to the Tampa music scene. We loved Ken. He was a super band-mate, a true gentleman and ten years our senior and an African American. Let me tell you why I mentioned that last detail...
We had, from the very beginning, skewed our music toward such greats as B.B. King, Bo Diddley, Jimmy Reed, Bill Doggett and Ray Charles. Ken's rich sax playing added just the right complement to the arrangements we were playing.
Right after Ken started playing with us, The EDEN ROCS were booked to play a Latin wedding at the Columbia Restaurant in Tampa's Ybor City. The owner's son-in-law would not allow Ken into the restaurant because of his race. The son-in-law was told that if Kenneth didn't play... The EDEN ROCS wouldn't paly!
After a brief and much heated discussion with the father of the bride, the band and Ken played the wedding - but only as long as we all went outside the confines of the restaurant during each break. That's what we always did anyway... so all went as planned.
That was the early sixties and I'm proud to say The EDEN ROCS have the distinction of breaking the COLOR barrier as the first interracial group in Florida. And what a distinct pleasure it was!!! Later, Al LaRocca, on keyboards, also improved the musicianship and sound for the band as did his older brother Tony, who sat in for Al on numerous jobs.
The band's players, over time, have each gone on to achieve their individual goals in life. Our bass player, David McCreery, went on to achieve success in Nashville, where he played and recorded hits with several country music stars who toured all over the world such as Dottie West, Skeeter Davis, Brenda Lee and other well-known country recording artists.
Jerry Babb worked for GTE (Verizon) for 25 years and retired in 1993. He opened a recording studio for a few years and then went on to work at Enterprise Rent-A-Car. He is now retired and lives in Tampa, FL.

Richard Guess has owned a food brokerage company for many years and lives in Lutz, FL.
Pip Studenberg retired after a successful 30 plus year career in Marketing/Advertising & Public Relations with a 12 year final stint with a Fortune 500 Company. He still dabbles in his eternal love for music by sitting in with local club groups on special occasions. In the early 1980's Pip or "Pip Parrish" (a stage name) wrote, sang and recorded several notable tunes that got a lot of air play through-out the Mid-West. He now lives on a 5-acre mountain top... in Hot Springs National Park, Arkansas.
Aside from the love of the music and the spotlight, we can each say we have had more than our 15 minutes of fame... and deep down we loved every minute of it.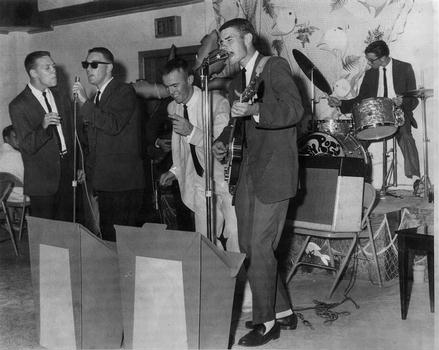 The Eden Rocs (photo 2) (l-r)
Danny Jiminez - Tenor Sax, Back-up vocals
Richard Guess - Key boards/Organ, Back-up vocals
David McCreery - rear - Bass Guitar
Dan Magee - Singer/Dancer
Pip Studenberg - Lead Guitar, Lead vocals & harmonica
Gerry Babb - Drums/Percussionist