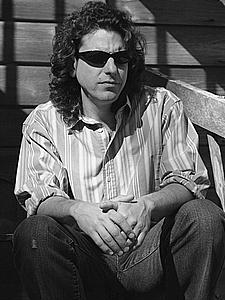 Butch Ryan
A veteran of the Tampa music scene since the early 90s, Butch Ryan has been winning audiences worldwide with his classics-in-the-making originals and energized live sets.
Butch Ryan has had six CD releases, three of which received world-wide distribution through Miles-Of-Music based in Hollywood, CA, a premier roots-rock/Americana music distributor. His music has also received distribution through Not Lame Records.
Ryan's songs have charted in the Top 20 on several independent music charts in the US, Europe, and Australia. His CD, Wishing on the Stars, was in the top 10 for several weeks on milesofmusic.com.
Butch has performed live for WMNF radio Tampa, WHOG FM 95.7 Daytona Beach, and BBC Radio Merseyside, Liverpool U.K. Butch has also been one of the gate bands the past 7 seasons for the NFL's Tampa Bay Buccaneers. With over 1000+ gigs under his belt, Butch Ryan has gained international attention (Australia, Japan, Germany, UK, Denmark, Belgium).
In the summer of 2005, Butch Ryan was selected by Ultrashort Media, Inc. to be a part of their MobileVoltage mobile music video channels on 3g mobile networks including Sprint and O2. Shuteye Records out of Atlanta, Georgia, selected Butch Ryan to be on their compilation album "United States of Americana", released in February 2006.

Butch has performed throughout the US, and completed a hugely successful tour of the United Kingdom in March 2005, with 3 shows at the legendary Cavern Club in Liverpool, where The Beatles got their start. In the Summer of 2005, Butch Ryan once again took to the road for a series of shows throughout the Midwest (Chicago, St. Louis, Memphis, Champaign, Atlanta). Another European tour followed in March 2006.

Butch released his latest CD, "FM Great", in historic Ybor City, Florida, in September 2011.

Whether opening for a major label act or blasting out a two hour original set , Butch Ryan never disappoints with his brand of approachable rock and roll.
Opened For:
Blues Traveler-The Stone Pony, Asbury Park, NJ
Marshall Tucker Band-Twilight, Tampa, FL
Steppenwolf-Killian's, Tampa, FL
The Outlaws-St. Petersburg, FL